The Night Shade of Greyhawk and the Hallowed Revenant Amphoras
Magma Claw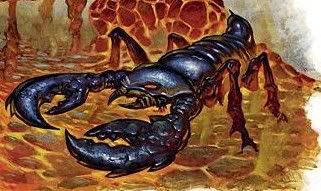 Magma Claw Medium elemental humanoid (earth, Fire) Level 4 Brute XP 175 Initiative +3 Senses Perception +7 HP 64; Bloodied 32 AC 16; Fortitude 16, Reflex 14, Will 13
Immune petrification; Resist 10 fire; Vulnerable cold (a magma claw that takes cold damage is slowed until the end of its next turn) Speed 4 (8 while charging) Claw (Standard, at-will) Fire +7 vs Armor Class; 1d6+4 damage plus 1d6 fire damage. Spew Lava (Standard, at-will) Fire +5 vs Reflex; the target takes ongoing 5 fire damage and is immobilized (save ends both). Alignment Unaligned Languages Primordial Skills Endurance +9, Stealth +8
Str 18 (+6) Dex 12 (+3) Wis 11 (+2) Con 14 (+4) Int 2 (-2) Cha 6 (0) Description: This creature poses as a hunk of volcanic rock until it's ready to strike. It then rushes toward its prey and immobilizes it by disgorging sticky lava through its claws around the victim's legs. It then burns and bludgeons the trapped victim to death.