The Night Shade of Greyhawk and the Hallowed Revenant Amphoras
The Brass Hills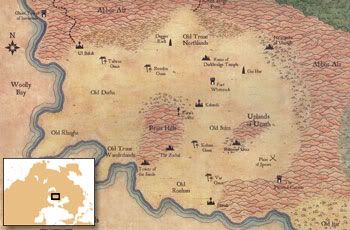 Home to Orvys Gelnor of the Night Shade's Heroes, the jutting peaks of the Brass Hills serve as the seat of archmage Rary of Ket's (The Traitor) power in the desert. The traitor has pacified the place and its only dangers are his worldly and otherworldly foes, or so the tyrant claims.

Little is known of this massif at the center of the Bright Desert. Presumably named for ancient mining operations, it has been nearly two thousand years since these hills have seen a pickaxe. The region's current inhabitant, the Archmage Rary, seems to have chosen the site for the excellent overview of the entire desert provided from its heights.
Three hundred years ago the secret people of the Brass Hills rose in revolt against the oppressive monarchy of King Alendus II. Mobs surged through the hills to his stronghold, forced their way into the palace, and ransacked it. Everything of monetary value was carried away and all else burned. The monarchy was replaced by a council who operates unknown to Rary, which is currently headed by the seneschal Gwydion. However, that the council is now floundering is no secret, and this has resulted in a groundswell of popular opinion for the return of the monarchy. A strong individual is needed now to pull things back together, but there is one big problem: who will be king? Certainly not Gwydion nor any of the council! How will they keep this from the eyes of Rary?
Perhaps the answer lies in a packet received from a religious sect known as the Brothers of Brie. Several old manuscripts were enclosed, the most important of which is the following prophecy:
WITH SIX HANDS OF LORING THE LOST UPON THE WHEEL OF TIME
, AT
THE MOMENT BAZEL MOUNTS HIS CHARIOT TO DO BATTLE WITH THE SEVEN DAUGHTERS
, THE
DEAD KING SHALL RISE TO SEIZE THE TRIAD WITH HANDS THAT CANNOT GRASP AND EYES THAT CANNOT SEE
. ALL
WARDS BROKEN AND THE MYSTIC BARRIERS PIERCED WITH MATING SWORDS
, THREE
SAINTS AND SINNERS WILL STRUGGLE IN THE DUST
, BOTH
AND NEITHER TO TRIUMPH
, AND
WHILE THE SUNDERED EARTH SPEWS FORTH THE DREGS OF CENTURIES
, A
NEW ORDER SHALL COME UPON THE LAND
.

Only three elements of the prophecy are recognizable to the people of the Brass Hills. "Loring" was the twelfth king of the Brass Hills. "Bazel" and "The Seven Daughters" are heavenly constellations that periodically move toward one another as if going to battle. Most intriguing to be sure, but which dead king? With the looting of the palace all those years ago, not even the proper lineage of the dynasties is remembered. But there is one king still held in reverence by one and all, Llywelyn the Just. Llywelyn! Of course! The Prophecy is ancient, probably written about the time of the founding of the secret people of the Brass Hills. Its authenticity is unquestionable, but is this the time of its fulfilment?