The Night Shade of Greyhawk and the Hallowed Revenant Amphoras
Magma Strider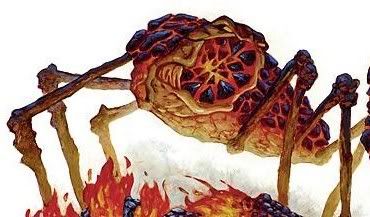 Magma Strider Large elemental humanoid (earth, Fire) Level 10 Skirmisher XP 500 Initiative +12 Senses Perception +7 Blazing Heat (Fire) aura 2; enemies in the aura at the start of their turns take 5 fire damage HP 105; Bloodied 52 AC 24; Fortitude 20, Reflex 22, Will 19
Immune petrification; Resist 10 fire; Vulnerable cold (a magma strider that takes cold damage is slowed until the end of its next turn) Speed 6, climb 6 Bite (Standard, at-will) Fire Reach 2; +15 vs Armor Class; 1d6+5 damage, and ongoing 5 fire damage (save ends). Burn Across the Battlefield (Free, when the magma strider hits with its bite attack, recharge ) The magma strider can charge another target up to 6 squares away and make another bite attack. Burning Mobility Fire Any creature that makes a opportunity attack against the magma strider takes ongoing 5 fire damage (save ends). Alignment Unaligned Languages Primordial Skills Endurance +13
Str 16 (+8) Dex 21 (+10) Wis 14 (+7) Con 17 (+8) Int 2 (+1) Cha 10 (+5) Description: Magma striders are relentless predators that are willing to pursue victims for miles, wearing down their prey through sheer persistence.